I really have no idea how to begin writing about all the wonderful experiences Alex and I had in Paris, despite keeping a relatively up-to-date, sequential documentation of things we did and places we visited. That said, I'll do my best to briefly summarize a few notes and highlights. I say 'briefly' not because I've written that much, but because typing on a French keyboard has been a very demanding exercise in concentration for me, and is akin to learning to write with the opposite hand. So here's what our first day was like, followed by some sketches and other bits. I hope you enjoy!
Day 1:

We've landed in France and are riding a commuter train to Paris. It's packed and we're those passengers you see on trains that take up two extra seats because we have nowhere else to put our gigantic backpacks. The view outside our window transitions from grafitti infested walls, fences and signposts, to the darkness underground, before we exit the train and surface on the streets of Paris, greeted by familiar sights from films and postcards; a series of bridges, the Seine River below, the front facade of the Notre Dame cathedral, and Parisian cafés. I am speechless for a good while, and then much to my surprise, we learn that our hotel is literally across the street. A very special honeymoon gift! We check in and settle into our room, located on the fifth floor, overlooking this one overwhelming postcard view.

After settling in, we meander through tucked away alleys of boulangeries, creperies, and other eateries, tiny art galleries, and late night cafes. We sit inside a small church half buried within an alleyway called Église St. Severin, where several small prayer groups are in session. The calm scene, the cool air, the soft murmurs, the priestly man who smiles at us as he walks by, framed by the overhanging arches all comes together to form a still in my mind's eye that I feel I shall remember as long as I live. I scribble down a quick sketch of it before we return to our room for the evening. I begin a night scene watercolour of the much larger church, Notre Dame. The lights shut off like dominoes around midnight and so do we.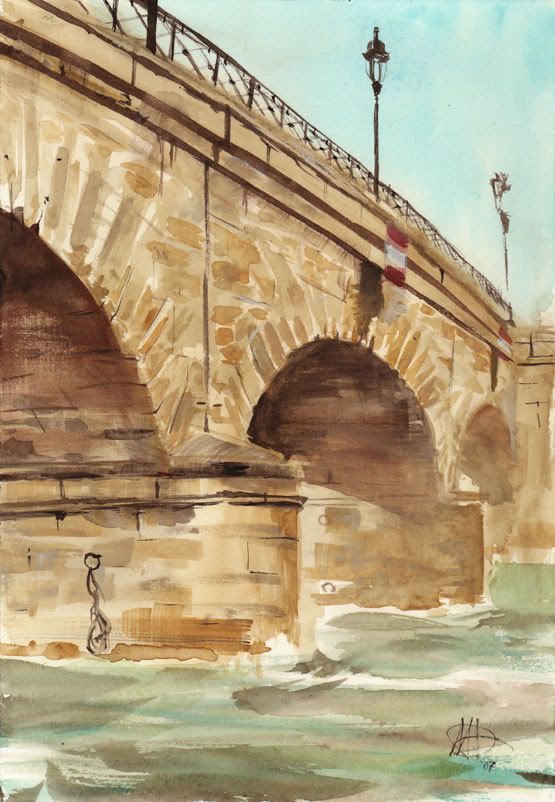 The following days were a perfect blend between being complete tourists and living like locals. As tourists, we explored the Louvre and paid homage to all the usual suspects such as the Mona Lisa and the headless sculpture of Nike, visited other museums such as the Musée d'Orsay and the Musée Rodin, drank expensive coffee, spent a rainy morning in Montmarte where Amelie was primarily filmed, specifically the café she worked at, Les Deux Moulins, bought souvenirs of typical things like vintage tins and refrigerator magnets that look like Parisian street signs, and of course, took pictures under the Eiffel Tower.


As make-believe locals, we visited the same boulangerie every morning for chocolate croissants. We spent a warm Saturday in Les Jardins du Luxembourg, where people came to sun bathe, sit and talk, read, or simply relax and people watch, while parents brought their children to push toy sailboats around the fountain with bamboo sticks. We took a day trip outside of Paris to join a friend of ours from back home who was visiting the area to do some bouldering within the strange and magical forest of Fontainebleau. We browsed a farmers market early in the morning with elderly men and women, while the rest of the town was still asleep. And nothing feels more local than being able to do the things you enjoy the most when you're comfortable. And so I enjoyed a lot of sketching, and Alex enjoyed a lot of afternoon reading and napping.



As to be expected, there are just way too many other thoughts and experiences I can't begin to write about. We had a bittersweet departure from Paris on Tuesday. Sad to leave it behind, but excited to meet, for the first time, a dear friend of mine within the online artist community,
Julien Alday
. That adventure deserves its own update and so I hope you will join me next time for the second half of our trip in France. To that end, I bid you
au revoir
and
à bientôt!